BOOK OF WORLD KR GOSWAMI
Introduction I am extremely happy to present this book to you as some of the personality traits inculcated by various psychological theories which I studied before a couple of decades from one of the universities from South India during my active service in Indian Air Force. Human nature is unpredictable and most of the time procrastinating. I learnt many things from school of psychology and self help books of best eminent authors since last one decade during my service in public sector bank. During very busy schedule in corporate sector I could not allot time to myself and to the needy people around me and therefore I decided to make some changes in me and to my friends in such a way that during their leisure they can read this book and apply 21 principles so that we can raise our standards and make lasting change in our lives. Some times we are good engineers, bankers, doctors or businessmen but we are undeniably not good humans. I am also still in learning process and my better version as a human is still far from my reaches but I am trying improve myself and simultaneously and take journey together so that we can prove to be better humans on this planet. This book is having 21 different chapters those may be deeply implemented step by step so that our mind can be well organized and our total behavior can excellently be presented to our counter part in society and we can live a very heathy and mindful life. I appeal to those who have happen to finish this book to share the views and wisdom to others and also can give some of the suggestion to me so that I can give time to myself for better understanding and desired level of standard. During my corporate job I could considerably help to my fellow officers and assistants for solving numerous issues right from home environment to different work issues. Readers are at liberty to write me for any kind of issues which have hampered their healthy life, I will be highly obliged to resolve them jointly. You can write send my any thing personal to my email address that is given at the end of this book.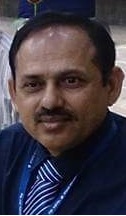 Authorpreneur
Author had 15 years of active service in Indian Air Force as an Airmen. He worked on Aero Engines of various aircrafts equipped in Armed forces. He was working in trade of Engine fitter and had a specialization in Helicopter engines. During his service in Air Force he was posted to different parts of the country including Leh-Ladakh as well as Jammu and Kashmir.
He was part of various operation of Armed Forces like Blue start operation, Blast Track operation and Passive air defence during peace time. He worked not only in Air Force Units but also rendered service in Army in units of Air Defence Regiments. Along with the Equipment and Aircrafts he was also trained in Arms and ammunition like .303 rifles and LMGs. While working on the aircrafts he discharged the duties of Guard commander and preserved various security levels of Air Force at different units. As a senior non commissioned officers he also worked as a supervisor in canteen store departments and unit run canteens. He recently published his military biography. Apart from real life story the book 'What I will be remembered for' also narrated the glimpses of various operations during war time and familiarized various gallantry awards.
The author was also manager in State Bank of India for 24 years in supervisory cadre. He discharged the duties of field officer, account officer and branch manager in various branches of Gujarat. He had maintained and upgraded various branches as 'Exceptionally well run' and met the requirements of levels aspired by the Bank. During various line segment assignments he managed men and material with adequate moral boosting of workmen. He worked as a joint custodians of Reserve Bank of India for several years and maintained cash flow for ATM replenishments and Currency Administrative Cells of branches of SBI and other banks. He was awarded best branch manager of State Bank of India in the year 2014-15. The author is had masters in psychology in 1986 from one of the universities from South India. During his active service in Armed forces and corporate sector, he guided organizations and individuals by the virtue of his experiments and experiences to resolve day to day issues. He acquired skills of computers by studying DISM and PGDCA from Saurastra University along with the degree from APTECH. While serving in the bank he also imparted skills to students in spare time with morning and evening classes by teaching them MS office, C++, visual FoxPro, visual basics and website designing.
The author has hobby of vocal and instrument playing like harmonium, guitar, flute, mouth organ and violin. Being an artist of All India Radio, he performed several programs over radio and stages in different parts of the Gujarat. Author is presently working on varieties of niches in the form of books and videos on banking, meditation, motivation, music and varied topics on personality traits and attitudinal effects on behavior exploring human psychology.